Perfect Fit Closets presents a wide range of one piece thermofoil products for doors and drawers. Thermofoil doors and drawers are made using flexible vinyl material that is applied by heating the vinyl and molding it over medium-density fiberboard (MDF). The result is a cabinet profile with a smooth surface that resists chipping better than painted surfaces.
This collection is durable, easy to clean, resistant to temperature and humidity changes as well as cracking, chipping, staining, and warping. This thermofoil Collections is the practical choice for any room in the office or home including kitchens, pantries, bedrooms, closets, vanities, dens, entertainment centres, garages, and even furniture.
Homeowners are attracted to thermofoil because of their easy care and maintenance. The surface resists stains and is easily wiped down. Stubborn residues such as grease can be removed with mild all-purpose cleaner. Thermofoil doesn't require protective coatings nor will they chip or crack easily.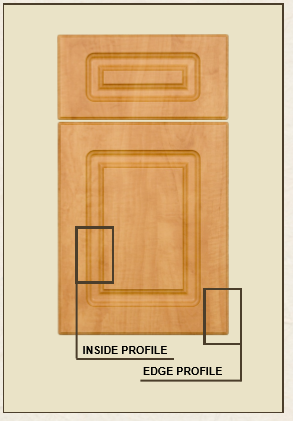 We use several CNC machines equipped with diamond tooling to ensure each door is exactly on size, square and that the profiles are exactly to specification. The profile you order today, will be exactly the same when you purchase an add-on in the future.
Keep in mind that standard Stile & Rail Widths and Panel Depths vary between all styles. These features are adjustable, but make sure you understand the specifications of the style you are ordering. Sales and Customer Service would be happy to answer any questions.
Rail widths may be reduced on drawer fronts, depending on the height and style. This can be due to machine or tooling limitations or just a style choice we have made. Let us know if you need something specific and we will work to make it happen.
Eased Edge Profile 1/16″ Radius

Below are the standard profile offerings
Timeless Allure…