We produce 9 ply 5/8″ (16mm) Scooped Dovetail Drawer Boxes with a clear lacquer coat (post-catalyzed conversion varnish – solvent-based). Scooped Dovetail drawers are sturdier than ordinary drawers as the locking joints ensure that the drawer sides are secure forming a durable bond that easily withstands minor wear and damage.
All Drawer Box Sizes are Custom. Maximum Opening Width is 36″
Click Here to Find Out Drawer Box Dimensions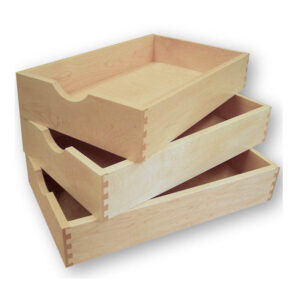 1. Sturdiness:
As the sides of the drawer seamlessly fit into the front, this creates a strong bond that glued or stapled drawers can't match. The use of solid wood rather than thin and less sturdy particle boards in making drawer boxes also enhances the durability and strength of the drawer.The perfect integration of solid wood and a locking joint in the drawer makes for a premium drawer that ordinary drawers can't compare to.
2. Durability:
As mentioned above, the solid wood and the locking joint enhance the drawer's durability and make for a drawer that could easily last a lifetime. Whereas regular drawers have drawer glides on each side, open to wear and tear, dovetail drawers feature glides underneath the drawer box. Since they are the only part of the drawer that takes the brunt of the work and consequential wear, the best place for them is underneath the drawer, which is exactly where the dovetail drawer puts them.
3. Craftsmanship:
Due to the amount of detail, precision, and craftsmanship that goes into the production of a dovetail, they have a premium feel to them that is still considered a standard in luxury cabinet making. Those with a refined taste will appreciate the drawers' seamless construction and how smoothly it slides in and out of the cabinet.To ensure a premium drawer that looks stunning and works without a flaw, dovetail drawers need to be crafted with utmost precision, focus and above all, patience; all of which makes way for a product superior than most its counterparts.
Check out Perfect Fit Closets on Instagram for more home inspiration ideas