With 2020 Closet, an add-on to 2020 Design, you can design closets and home storage systems quickly and accurately with software tailored to the unique requirements of the closet and home storage design markets. The software's component-based design is tailored for home storage design, including the irregular shape of spaces, how components attach to each other and fitting components into a defined space. Easy to learn and use, 2020 Closet lets interior designers simply drag and drop pre-configured items onto a floor plan, and the application automatically molds the set of components to fit the space—a major advantage when dealing with irregular storage areas.
2020 Closet is the perfect solution for custom closets!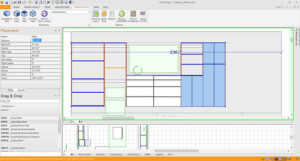 Powerful "flex" technology
---
With a simple movement of the mouse, adjust the inserted components to fit the dimensions of a specific space, including an irregularly sized one.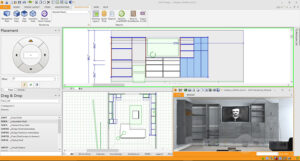 User-friendly interface
---
Junior designers can start designing simple closets and other storage spaces with minimal training. Drag-and-drop functionality lets them quickly and easily insert components including drawers, shelves, racks and panels.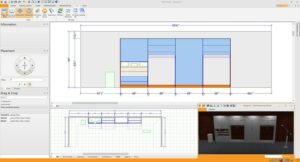 Automatic calculation of dimensions
---
Automatically recalculate dimensions for all components in a complete unit whenever an adjustment is made to a single component.
Advanced presentation tools
---
Create 3D representations of designs to wow prospects and help customers visualize the project with texture details in colour and luminous effects.
Export to a manufacturing system
---
Fully integrate with a manufacturing system for a smooth process from sales right through to the shop floor.