High Level (first day)
Sample Bag
Measuring/Assessment Tools/Tablet
Google Drive
PipeDrive
Docusign
Sales Process
Product Knowledge
Designing Tips/Questions
Important access informations
Pipedrive & Docusign:
ID= mali.braun@perfectfitcanada.com
Password= M0th3rsh1p
Sales process
Generally a one week process to closing a deal!
Creating contact- Send confirmation email for meeting (canned email)
*Call the day of to give heads up
Create PipeDrive & Google drive folder
PipeDrive: mali.braun@perfectfitcanada.ca PW: M0th3rsh1p
Initial consultation- Assessment + pictures (all download to google drive & pipeline)
Thank you email right after leaving clients home
Send design to the client (within 1-2 days)
Connect with clients (or meet up in person if necessary) to discuss the 3D's and the design (call and ask if they have any questions/does it work for them?)
*Always date the files if design changes
Contact clients 2-3 days after to possibly sign contract
Manager touch-base, everything OK so far? Install date ok?
Schedule installation according to shipping (8-10 business days with current dealer – date of install is based on if ordered the following Monday) & 50% deposit requested before ordering
8- Signed contract & initial 50% deposit received?
Order product on the following Monday
Send project order (PO)/summary to installer (Russen Holding Inc – Karen & Russel) with Inventory notes in the calendar
Final payment confirmation on installation day (3% fee charge for credit cards- no Amex)
Follow up/quality control/Reviews
Design Proposal
Renovation Contract
Order Process
Have contract, design proposal & initial deposit printed and together
Update Pipedrive with deal information
Have all up-to-date ODE design files in the client folder, cross reference $ and make sure there is an off-cut on all necessary walls
Upload ODE into ORG Order
Omit appropriate hardware pieces that we don't need to order and leave the ones you are unsure of so you can cross reference inventory
Print the order form: highlight all custom pieces and cross out hardware you aren't ordering and ? things that need to be checked in inventory.
Submit ODE Order to online by giving it a title & date (e.g. CHenderson Kids Closet April 122016)
Open Orgdealer.com (ID: perfect & PW: M0th3rsh1p) àBUY à Saved Standard Orders à view Cart à Load Your Stocking Order à select appropriate client à add to cart
Double check the (?) Hardware against the inventory and add or delete accordingly on the excel and order sheet
Double check product inventory list and only take away if available, no need to add new to this list since we order as needed per client
Once all the changes are done in your cart please resave your cart if you are waiting on payment or other outstanding items.
àBUY à Special Order à view Cart à Clear Cart if necessary à Upload items according as per yellow highlight on sheetà Double check against ODE design for right dimensions à Save cart with client name and date (e.g. CHenderson Specials April 122016) – Order all client specials together to save yourself some time.
When ready to submit order: Checkout à Select warehouse (YYC is Westkey) à Select Freight company (Estes) à Reference (CHendersonKids) à pick delivery date à order
Summary Form
Installation & Warehouse
General Rule is to book the installer for $4000.00 per full date of work (930 to 530) or $2000 for half day (930 to 2 pm) *Please give 30 minutes for travel time!
Installers will get to the warehouse in YYC for 8 am (opening hours)
Calgary Warehouse: 1891 15 Street SE (open 8 to 5 pm) 4032699116 (Laxman, security)
Products
3 main products:
First level
Verticals= particle board covered with melamine
Fronts= MDF covered with thermafoil
Second level
Verticals= particle board covered with melamine
Fronts= 5 piece polyester
Verticals= particle board covered with melamine
Fronts= Acrylic Shiny Colors
Our Niche
As a complimentary service we will tear-out existing shelving, patch the holes, touch-up paint on the patched areas. Smaller to medium jobs can be taken care of the day of install. However, with larger jobs the client will either have to take care of it themselves so they can paint the whole space or we will charge a fee to come out as an extra trip to tear-out and patch, leaving the client the sanding and painting. We will also discard the old closet material. California Closets does not do this for their clients!
We focus on quality install so we fit our material wall to wall. This means we work with uneven walls and uneven floors by scribing our material to the wall and trimming kicks to match the floor. We do all of our cutting on site and avoid making a trip back to the shop because our vans are fully equipped with all the tools we need. Generally, companies leave a small gap on either side and install the material into that space, not fully maximizing their design and storage.
(Chanelle)
(Alfred)
Design concepts, layouts, questions & restrictions
General Questions for ALL spaces:
Floor or wall renovations happening in near future?
Design preference of material going to ceiling (crown moulding *be mindful of lighting*) or off the ceiling (typically 12") with a top-shelf option?
How deep the material needs to be and how tall do they prefer? (Know our standard sizes for this à Depth Floor: 12, 14, 16, 19, 24, +. Depth Wall: 14, -. and Height: 108 max, +)
Doors or the material or open concept? Doors do add cost!
Vertical holes = functionality. However, we can do no holes for a cleaner look but need exact measurement for things going into the space.
Inventory of material going into the space.
Drawers? How many and size? (Know our standard sizes for this à Heights: Small 5", Medium 8", Large 12") (Widths: 18", 24", 30", Max 36") (Depths: 14", 18", 22", +) * Max weight capacity of slides is 50 lbs*
Problem areas that you feel need improvement?
Accessories Needed: Slide-out pant racks, chrome baskets, hampers, tie rack, valet rod, belt rack, jewelry tray insert (has to go in a 5" drawer)
Are you getting other designs and quotes? From whom?
Closets
Design of the closet should it be his and her style?
Number of shoes? Boots?
Number of Purses?
Prefer folding or hanging clothes?
Laundry Hamper needed? Qty?
How much long hang is required?
Accessories Needed: Slide-out pant racks, chrome baskets, hampers, tie rack, valet rod, belt rack, jewelry tray insert (has to go in a 5" drawer)
Drawers? How many and size? (Know our standard sizes for this à Heights: Small 5", Medium 8", Large 12") (Widths: 18", 24", 30", Max 36") (Depths: 14", 18", 22", +) * Max weight capacity of slides is 50 lbs*
Ironing board need?
Want and island in the center of closet?
Mudroom/Laundry Room
Bench Needed? Size preference? Standard height is 18"
Washer/Dryer going to be staying? Always front facing or top open?
Counter top above washer/dryer?
Are they bring clothes to the space? Jackets, etc. Rod or hook preference? Qty?
Place for ironing board?
Broom closet? Central vacuum, etc.
How much storage do you need? Are you bringing more into this space?
How many pairs of boots? Shoes? Etc.
Kids back packs going into this space? How many?
Do they want a system for their own laundry basket storage?
Office
Table depth required?
Filing cabinetry needed?
Drawers? Shelves?
Size of printer? And Computer?
How many computers?
How many people using the office?
Do they work from home? Type of work?
Upper cabinetry needs?
Murphy Bed
What size? Single, Double or Queen. How often the bed is used to determine functionality of the space.
Do they want lighting for the bed with a switch near the guests head for evening light? (toggl switch or sensor controlled?) – We need an outlet nearby…mostly behind bed.
Have to supply their own mattress! Cannot exceed regular height of 11" (standard mattress). Unless they specify pillow top than we would do pillow box bed!
Night side tables? Shelves? Drawers? (It would be a tower similar to our pictures online?
| | | | |
| --- | --- | --- | --- |
| Size | Width | Height | Depth |
| Single | 44.528" | 83.937" | 16" (when Upright) |
| Double | 59.528" | 83.937" | 16" (when Upright) |
| Queen | 65.512" | 88.976" | 16" (when Upright) |
Garage Cabinetry
Would they needing ceiling racks? (4 ft wide x 8 ft long x and adjustable in height up to 36")
Would they need tire racks? (5 ft wide adjustable x 3 ft high)
Would they need a wall track system with hooks? (silver track – aluminum) à can hold shovels, bikes, golf clubs, rakes, ladders, etc.)
How often are the above mentioned items being utilized? Ceiling or side wall mounted?
Will they need a work bench? Tool inventory? Measure larger tools (W/D/H)
Will they need drawers?
Are they interested in epoxy floor finishing?
Quantity of larger tools that need big storage space?
Lawn mower storage?
How many cars coming into the space? How close to the cabinetry?
Garage Flooring: Garage Granite
Process
Grind the cement to rough it up
Hand grind the side retaining walls
Base coat + Flake color of choice, let this cure
Finish with a top coat
Product
Epoxy – true & tested, UV rays will yellow
Polyurethane – Newer, UV ray resistance
Cost
$5.25 sq ft to $6.75 sq ft – depending on size, condition of floor, etc.
How we do it?
We have partnered up with a company named Garage Granite so Darren Morgan will be the main contact! If a client is interested than Darren will get in touch with them to do a proper evaluation and information meeting.
If a referral has been made: Please email Darren client contact information and update the excel sheet in Google drive.
Sliding Door
Chelsea Gordon
Phone: 403-451-5782
Email: chelsea@slidingdoorco.ca
Installer
Russen Holdings Inc.= Russell & Karen
Terminology of Design
2BC= to be confirmed
PO= project order
DH= double hang
LH= long hang
ELS= electric socket
LS= light socket
CH= ceiling height
Touching base with clients on the phone:
Booking complimentary consultation- Voicemail example:
Hi (client's name),
This is ________ calling from Perfect Fit Closets. You have reached out to us by a free consultation form for your closets needs and I wanted to touch base with you and help answer any questions you may have and book a complimentary consultation. You can reach me at 587-230-8120. Repeat: Again, my name is _______, calling from Perfect Fit Closets @ 587-230-8120. Get in touch with us when you're ready and we would be happy to help you out. Thank you!
Booking complimentary consultation- Conversation example:
Customer: Hello!…
Hi is this (client's name)?
Hi (client's name), this is ________ calling from Perfect Fit Closets, how are you?
I got your free consultation form that you had sent to us for your (space they need design for) and I wanted to touch based to help answer any questions you may have. Do you have a minute for me right now?
Yes= Perfect! What can we help you with? Can you give me a rundown on what spaces you need our help with?
*Type down information in calendar notes as the clients talks.
No= Would there be a better time for me to call you or would you like to give me a call back when you have time?
Yes… Where in the city are you located?
Would be available for an appointment during the day or evenings or weekends? Which do you prefer?
Perfect! Let me take a look at my calendar… Could you do next (day and time offer e.g. Thursday at 4:30pm)?
Yes= Perfect! What I will do now (client's name), is a quick confirmation for the appointment time and date and send it to you by email. In there I'll recap the designer that is coming out to your home which will be myself, my name is _____.
I will also send you a brochure as well as the link to our website.
If anything comes up and you need to change the appointment just get in touch with me
*Confirm contact information if needed and best contact number to be reached at
Wonderful! I will see you next (day and time of appointment)
Dimensions standards
Closets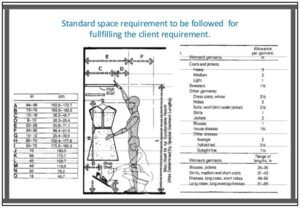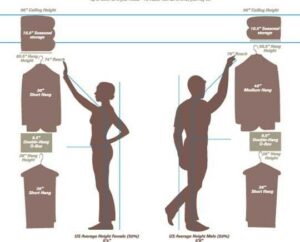 Laundry
Office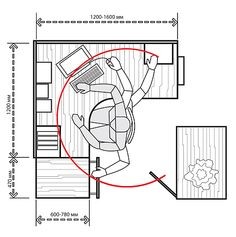 Pantry
Bar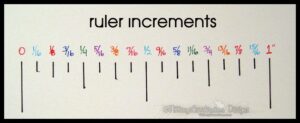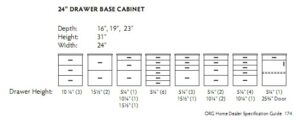 Dimension's
TFL – Thermal Fused Laminate. Particle Board inside. Heat Pressed Laminate Outside
Colors – 10 to 11 Colours
Width Sizes – 18" / 24" / 30" (Technically 17 7/8" – 23 7/8" – 29 7/8") just for accessriers
Length Sizes – 84" Standard
Depth Sizes – 12"/14"/16"/19"/24"/27"/30"
(14" – Standard. 24" – Able to add door. 27" and 30" – Washer and Dryer)27 for office deskds
Rods –
Oval
44" Maximum (Add Rod Support after 40")
42" Length Sections for Double Hang (minimum for T-shirts)
63" Length Section for Long Hang
Boxes – 5/8" Birch Dovetail
Soft close as a standard
Can offer Push open / Push close
Bottoms are ¼" as standard and can be upgraded to 3/8" for bottoms of the drawers.
14" 19 and 22 outside dimensions Deep only?????
Slides
Under mount soft close slides (Standard)
Last Longer
Dust doesn't get in like side mount slides
Smoother operation
Doors
Square Edge (20% Less expensive)

Laser Fused Edge banding (Laser that bonds or fuses the edge band to the laminate)
Competition just uses glue on edge banding that can peel off
1mm edge banding
Colour matched

Thermofoil

Vinyl wrapped that gets glued, vacuumed and heated on
7 to 8 profiles

5 piece Shaker
Door Front Sizes – 5"/12"/18" high
*Typical Drawer Bank – 36" to 40"
Shelves – Fixed or adjustable
5" or 6" standard shelves
Crown Moulding – 1" from top of the ceiling MAX
Decorative Back Panel – 3m or on ¾" MDF
Shoe shelves 8" for slanted and 6" for flatr
FSC Standards – 0.3 ppm allowable for formaldehyde
NOTES: All Closet industries use ¾" TFL. Edge banding and quality of material sets us a part
Accessories (Ordered from Marathon or Hafele)
Jewelry Box – 24" wide x 14" deep x 5" high (On regular side mount)
Shoe Fence – Width has no minimum but stick 18 24
Warranty – Lifetime warranty for the original homeowner
Rod Pull Down – 24" Clearance from front
Hamper –
Niche Market
With our fixed shelves, cam's are pre-drilled from supplier in Calgary. Cam covers are color matched. Our shelves have only 1 hole. Others have 2 hole system and supply no cover.
Boxes are dovetailed. Others have??????
Others have H Channels
6 11 17